The idea of a ribbon cutting ceremony was not enough to mark the completion of a streetscape beautification project. Steve Lorenz, Executive Director of the Kamm's Corners Development Corporation, along with the board and staff, decided to start a new tradition, The Hooley.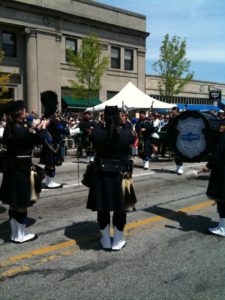 For hours, police shut down a section of Lorain Avenue while thousands of people enjoyed the Cleveland Police Pipes and Drums, the Brady Campbell Irish Dancers, bands and other performers. Tents by local businesses lined the street. You could smell the food from blocks away.
Clevelanders never need a reason to get together to have fun. The Hooley was designed to entertain the entire family. Lorenz, his board and staff have a reason to feel that they accomplished that goal. As far as I'm concerned, The Hooley was a big success. The weather even cooperated. I'm sure there are a lot of people with sunburns today.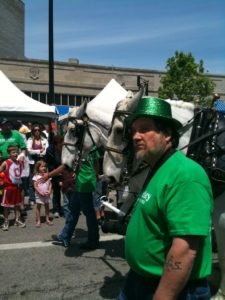 The Hooley also marked the debut of the new Kamm's Lager. The beer will only be sold at area nine businesses. Each of them have a customed tap han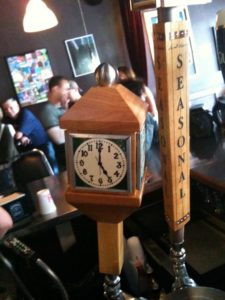 dle resembling the Kamm's Corners' clock. I'm sure the hands don't show five o'clock by mistake.
A horse-drawn carriage delivered kegs of the brew down Lorain Road to the establishments. Thirsty Dog Brewing Company in Akron crafted the beer. Apparently, they did a good job because it sold out in many locations during the festival. The beer wasn't the only sell-out. Green t-shirts with The Hooley logo were also in high demand.
During our time at the festival, we ate at the Backstage Bar. I'll wager it has some of the best cuisine in Kamm's Corners. Try the Potato Soup!
The Hooley is to become an annual tradition. This year's festival set the bar fairly high.