[as told with lots of help by Katie]
Adding a cat to the household took a lot of thought. Okay, it was an impulsive decision.
Before we headed to the Cleveland APL, we looked online to see what cats were ready for adoption. We quickly knew it wasn't the cat that looked like it was hissing at the camera. We found a couple of options on the website and went to the facility.
We looked at a bunch of different cats. There was some disappointment that the APL didn't have any very little kitties. We found one little cat that was only 8 months old. The little animal was very skinny. The APL person told us that the cat was found on the street. We decided to take the kitty home with us and give her some food.
When we got her home, she looked around the house searching for a place to call her own. She decided that one of the chairs at the kitchen table was one of her spots. The other spot was a chair in the computer room.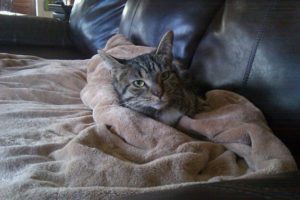 We couldn't believe how much she liked to be held. She didn't want to leave our laps. We were a little sad because she kept sneezing. After a couple of days, we decided to take her to the animal hospital. The vet told us she was very sick. They decided that they needed to keep her for a couple days. When we went back to get her, she was a lot better. We had to give her some medicine to help her keep getting stronger. After a couple of days, she became more healthy and started being more playful. We spent some money to help her get better but think it was worth it.
Now, Malley likes to play with her scratching post. She also really enjoys our neighbor's plastic ball that was accidentally left at the house. Malley is also now eating her food a lot more. She likes to play under the bed and attack people's feet. She knows how to bite when she's playing without it hurting. When we go upstairs, she always follows us. She likes to race us to the top.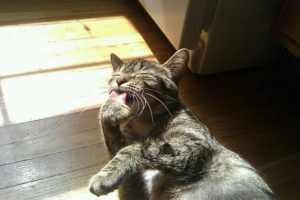 She didn't like Pounce Seafood moist treats but likes Friskies Natural Sensations chicken flavor. We wonder if it's the seafood or the moist treats that she doesn't like.
Right now, Malley is sleeping on the chair in the computer room. We're glad she calls our house, home. By the way, Malley was the one who was hissing at the camera. She's never hissed at us.


&