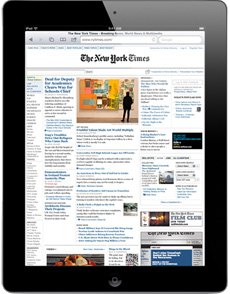 Photo credit: Apple
Just four days and counting until the launch of the iPad 2. Since Apple has given very little specifics about where you can actually buy the device, many people are wondering just how they will get their hands on one.
Via their website, Apple lists two ways of buying an iPad 2. One of them involves a visit to one of their retail stores and an unimplied long wait for the device. The other option is purchasing your new iPad online. Since there is no ability to pre-order, this is not an option for people who want to get their hands on an iPad 2 on Friday. According to 9to5mac.com, Apple will begin online sales at 12:01am PST.
Online reports say Best Buy, Target, Sam's Club and Walmart are all getting in on the action. However, there seems to be some concern that not all models will be available at all stores. So if you don't want to wait in a line on Friday outside of an Apple store, there may be some other options.
What is your strategy for getting your hands on an iPad 2 this Friday? What are your considerations for purchasing one? Will you go with 16GB + WiFi? I'd love to hear your thoughts about why you are choosing one model over another.